As part of my Dornoch Whisky Festival preview article I had picked out the Gala Tasting at the Dornoch Castle Hotel as a potential highlight. On paper it promised to be the central hub for weekend's celebration where everyone could theoretically congregate in one venue and enjoy the festivities.
Other festivals not held in regions of whisky production are often pour and serve marathons, becoming oversubscribed because the vendor is focused on numbers for the one and only event that day. The obvious danger are that such festivals are often viewed as a sizeable session with friends on the cheap so much so I actually avoid specific events nowadays. For those with a real interest or curiosity about whisky, the ability to take a few minutes to discuss the distillery , whisky or a related topic just isn't possible at some festivals. Plus grab a bite to eat from a convenient local food vendor. We're all here for the whisky yes, but also the joy of discover and communicating with those that represent the distilleries is half the fun as well.
For this debut Gala, local distilleries were invited but representation went beyond the exclusive Highland geographical limitation. Also in attendance were forthcoming distilleries such as Dornoch and Glen Wyvis, who in the coming years will be pouring their own whiskies at such events. It isn't all about the whisky, with beer and gin also being on offer. Various food options were at hand (Scottish unbaked, Cocoa Skye and Cured by Cake) plus a random number of lucky attendees were offered the opportunity to attend a whisky and chocolate pairing masterclass with none other than Charles MacLean and event hosts the Whisky Corner.
This event had a ticket price of £25 which I purchased in advance and kicked off at noon on the Saturday. Included in this apart from admission was a goody bag with a voucher card that could be used to exchange from whiskies and the necessary Glencairn glass. The advantage of the voucher system being it does ensure sensible alcohol consumption, albeit there was the option to purchase more if necessary throughout the four hour event. A raffle ticket was your potential gateway to the whisky and chocolate masterclass – sadly I was having such an enjoyable afternoon catching up with friends new and old; I forgot to check my number.
On the eve of the event, the organisers announced a £12.50 ticket special that granted you access and 10 vouchers minus the goodie bag. To be honest, there wasn't much else to the bag with various inserts and the aforementioned raffle ticket so it represented a decent deal and helped boost numbers without rendering it impossible to move around the stalls. A list of whiskies being served in 10ml measures was an essential reference guide along with their voucher fee and the bottle price that you can purchase at the nearby Carnegie Whisky Cellars, with some on special for the day.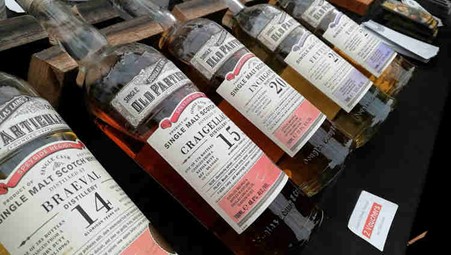 Arriving slightly after opening time due to the nearby Independent Bottling Masterclass at the Carnegie Whisky Cellars (article forthcoming), the Gala was in full swing. A slight detour to the Dornoch Castle Whisky Bar for a liquid pre-event (for the record a 1970's Glen Ord and a 1980's MacPhails) tonic with my good friends from WhiskyLifeStyle who had come over from the Netherlands. Actually there was a good mix of Dutch enthusiasts taking advantage of the direct flights to Inverness, plus Finnish, American and local whisky fans giving the event a continental buzz. Even the curious and I'm pleased to report plenty of ladies trying whiskies and enjoying the Gala. Several of the vendors had come from across Scotland and were making a weekend of it. Even speaking to local guides from Clynelish it was obvious they were having a great afternoon talking about their distillery and were envious of those fortunate to be on the Brora VIP tour the following day. You're going to ask me about the whiskies? I never managed to spend all my vouchers as I seemed to spend more time talking to the lovely ladies of Balblair distillery or David on the Douglas Laing stall.
Gordon & MacPhail had made a local effort bringing along a lovely 2008 Teaninich and for 3 tokens a 25 year old Linkwood could be experienced. Annandale offered peated and non-peated variants of their new make spirit at 63.5% and the Carnegie Whisky Cellars offered a range which included their exclusive Caol Ila bottling I recently reviewed. Moving along, Clynelish had their 14 year old that I enjoyed reacquainting myself with once again. Glenmorangie offered their premium Signet and a selection of their cask finished range including Tayne, Tariogan and Ealanta. The Loch Lomond group stall proved to be very popular with various age statements and the Double Cask for just 1 voucher a measure; a real crowd pleaser. Glen Wyvis had their popular local gin and plenty of chat about the future whereas the local girls from Coast Candles were looking forward to selling me more candles for my wife. Always a popular gift option with some interesting aromas including the new Rock Rose Gin candle. I never thought I'd be talking candles here at Whisky Rover. The Dornoch distillery table was a popular destination for the latest news on the distillery and a selection of bottles from the bar and their own exclusive releases including a Ledaig, Arran and the festival launch of their 19 year old Caroni from 1997. I'll be reviewing this rum shortly and like many of you, learning a little more about the legend of Caroni. Glenturret offered a trio of whiskies that are much overlooked, the Dalmore offered a great selection including their distillery exclusive release. Glen Ord brought their age statements and having tried these last year as part of the first Dornoch Whisky Festival, they're worth revisiting. Wolfburn had their Northland and Aurora releases for the curious about this new Northern arrival on the whisky scene. You just cannot go wrong with Balblair as the 2005 and 1999 proved after much deliberation from us. Matched with chocolate, the 1990 was also available and for 4 vouchers the 1983 was poured. An excellent whisky. The Old Pulteney 12 year old was on hand and being opposite the Douglas Laing & Co Ltd table, a short trip between measures. I skipped their Epicurean, Scallywag etc. brands making way for their excellent Old Particular range. The 14 year old Braeval was an ideal opener before making way for the 20 year old Fettercairn and then arguably my whisky of the show the 15 year old Craigellachie. I'll have to buy a bottle and thanks to David for giving us a taste of that Carsebridge from under the table. My review is in the works but a wee dram didn't disappoint. Last but not least was Benromach having come up from Speyside with a strong selection including their 35 year old for just 5 tokens. Overall the Gala was a tremendous success for visitors and participants alike. It all ended a little too soon for me as a warning gun towards the end would have been beneficial.
Thereby helping me spend those last remaining tokens, but that's a tiny criticism and I was late to the ball after all. The organisers had a BBQ and ceilidh later that evening to clear us all away for, plus that fabulous bar was calling us for another whisky.