As we have already said, we were delighted to meet some wonderful people and some great bloggers, so this next post is from the lovely Whisky and Whiskers! You can follow them on Twitter @Whisk_Whisk and their websitehere. For the original blog post, please visit: https://whiskyandwhiskers1.wordpress.com/places/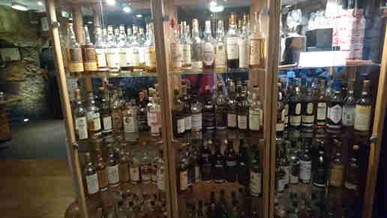 Dornoch whisky festival marked some big milestones for me. Firstly, it was my first whisky weekend away on my own and secondly it marks what I affectionately call my "Six months of freedom!" It was my wee (big) treat to myself for having stopped smoking for 6 months. Go me!!!
I drove up there on Friday after work and checked into my hotel then freshened up ahead of my first event.
First up was a gin tasting where I tried 4 gins with their respective mixers. I tried Isle of Harris gin with Fentimans Rose Lemonade and raspberry garnish, Gordon Castle with fever tree tonic and mint leaves, Dornoch distillery gin with fever tree, lemon peel and cracked black pepper tonic and Boë Violet with lemonade. The middle gins were interesting and savoury.
After a good sleep and breakfast, it was time to be a Hobbit and have my Second Breakfast at the Douglas Laing Delicious Dessert tasting, pairing single grains with sweet treats. This is a whole other post in itself so I won't go too much into the tasting of these for now.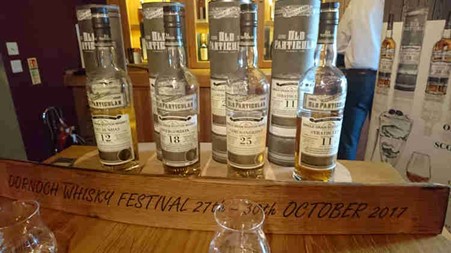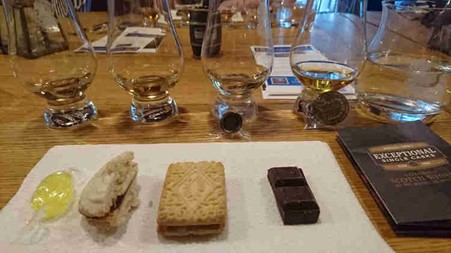 This was a brilliant way to start my day and after a wee gin and tonic by the open fire, a quick peruse of the whisky cabinets in the castle bar then listening to the pipe band outside, it was off to the festival in the marquee to drink more delicious drams.
It was a small space but it was packed with lots of friendly vendors, not to mention friendly drinkers! It didn't matter that I was there on my own, everyone chatted to each other over a dram. I usually forget to take notes of what I've tried at festivals and below is evidence of my foolishness in trying to handwrite a list of drams I had. Yeah, not the smartest decision I made but it has made me laugh looking at it whilst trying to decipher my drunken hieroglyphs!!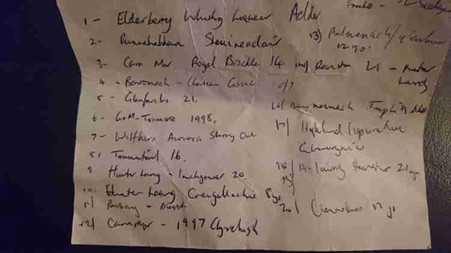 The end of the festival came about all too soon, as I had to drive back home the day after it was a good idea to call it a night after this event.
After dinner and a good sleep, it was time to get ready and to leave this wonderful place and drive home. I did manage to stop off at the beautiful beach and admire the view for a while. Simply stunning!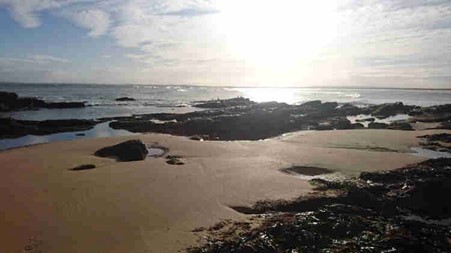 A big thank you to all who organised this wonderful event and to everyone there, pourers and drinkers, for making this such a magical and special event for me. I will definitely be going back! And hopefully I'll be greeted by this wee fuzzy guy again.
Well, I am Whisky and Whiskers. You had to know cats would feature in this post!