Only one week until the Dornoch Whisky Festival 2017 starts!
The excitement has definitely reached fever pitch now! We hope everyone has been keeping an eye on our Facebook page as we've been releasing the videos from when our VIP Stephen Rankin's came to visit Dornoch. If you haven't seen them yet, make sure to check them out here as they give you a little more insight to some of the events we'll be holding and a few of them are on the Sunday of the Whisky Festival – only one week to go!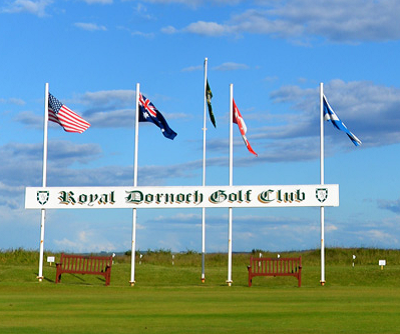 We'll start the morning off with our David Urquhart Memorial Trophy which is named in honour of Stephen Rankin's late uncle. We are delighted that Stephen will also be taking part in the competition as will many of you because the event is sold out but we wish all those of you who are taking part good luck!
Next up on the Sunday morning is the Dornoch Distillery Brunch! Now we don't want to say too much about this but we can say they've got a wonderful event planned. It is the perfect chance to voice all the questions you surely have about the distillery and of course, to see it.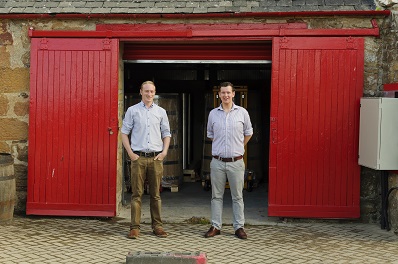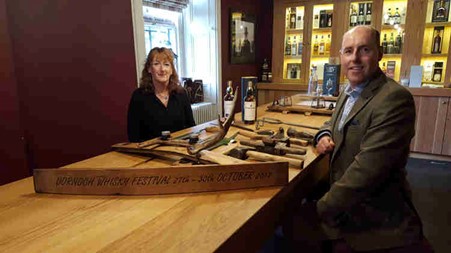 Our next event on the Sunday is one for the cocktail lovers! Lorna (pictured with Stephen Rankin) at the Carnegie Whisky Cellars is preparing a treat for you which takes some of the traditional whisky cocktails and puts an innovative spin on them. She's been working incredibly hard to make sure this is an event to remember so those of you who managed to get tickets, you are in for a treat.
Next up is a bite to eat – although I'd make sure you have room since this will be a lunch to remember at the Links House at Royal Dornoch. Famed for their luxurious settings and award-winning head chef, this whisky themed three course Sunday lunch will be just what you need on an autumn afternoon.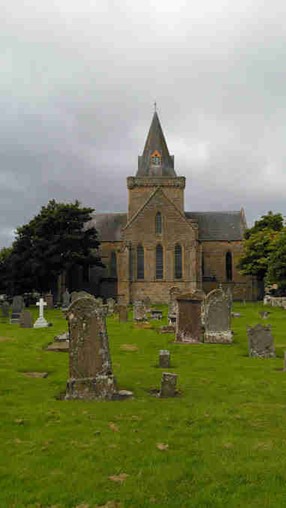 After a wonderful lunch, how about having a tour of Dornoch by the amazing Anne Coombs of the Scottish Tour Guides Association? You can book your tickets here. Our Royal Dornoch Golf Course is over four hundred years old, our Cathedral dates back to the 13th century and we can also claim the last execution of a witch! So when we say there's a lot of history in Dornoch, boy do we mean it! That's not even mentioning Sutherland as an area which was rife with illicit stills and whisky history, so after the tour (or anytime over the Whisky Festival weekend) make sure to pop into our History Links museum for a specially created whisky exhibition!
These next two events are back due to popular demand and revamped for 2017! It's the Old and Rare tasting by the Thompson Brothers and the Independent Bottlings Masterclass by Michael Hanratty at the Carnegie Whisky Cellars. Both events are the perfect finish to the Dornoch Whisky Festival this year and for those lucky enough to have gotten tickets, we can't wait for you to see what they have planned!
Of course, we can't forget about the Monday! For those of you who haven't had the pleasure yet (or just want to again – and who wouldn't?) we have a mass of distilleries in the area! Ranging from just down the road at Glenmorangie, to up the road at Clynelish and all the way up to the furthest North mainland distillery, Wolfburn in Thurso. Make sure to spend your Whisky Festival Monday at your favourite distillery in the area!
Until next time, whisky lovers!