At the Dornoch Whisky Festival 2017 we were delighted to host so many people and some wonderful bloggers! So below is a review written by Noortje who you can find on Instagram at @whiskylifestyle or her own blog whiskylifestyle.com.The original post can be found here: https://malt-review.com/2017/11/16/the-dornoch-whisky-festival/
Without further ado, here is her review (no rhyme intended):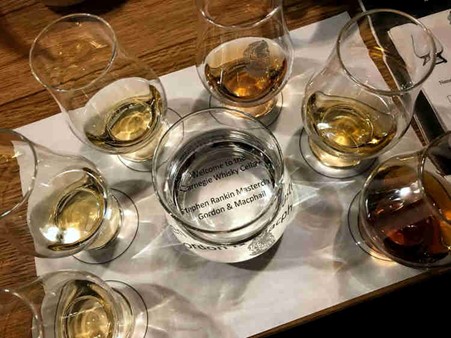 Already in its third year, Dornoch Whisky Festival is no longer a newcomer anymore. The festival, that runs from Friday to Sunday, has many different festivities, such as whisky themed dinners, several whisky and gin tastings, but there was also a cheese, wine and beer tasting and whisky scented candle making.
A wide variety of activities, but there was a big change this year. Previously all the nearby distilleries had participated in the festival, but this year that was not the case. It was a shame because the Brora Experience was one of my highlights last year. Still, there were plenty of other festivities to choose from, so I had a few nice masterclasses to look forward to. And now all the events took place in Dornoch itself, there was no need to argue who the designated driver would be.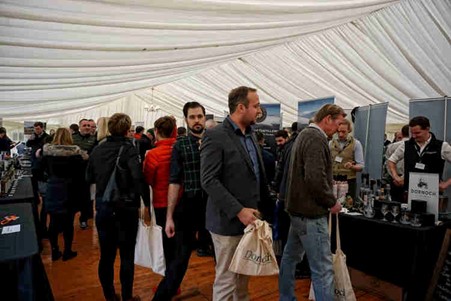 Festival Start
Early on Friday afternoon, I arrived at the Dornoch Castle Hotel. It's the heart of the festival and it's also the place where I would be staying for the next couple of days. In the evening there was going to be a whisky themed dinner. A great start to the festival and nice time to catch up with our American friends, which I had not seen for a year. The last time I saw them was at this same festival and when I looked around I saw even more familiar faces. It seems the festival already has its regular visitors.
After dinner, it was straight to the bar, where a lot of interesting whiskies were shared between us, as you do in a proper whisky bar. The assortment in the bar had changed quite a bit, so there was a lot to try. It became a looong night.
Main Event and G&M Tasting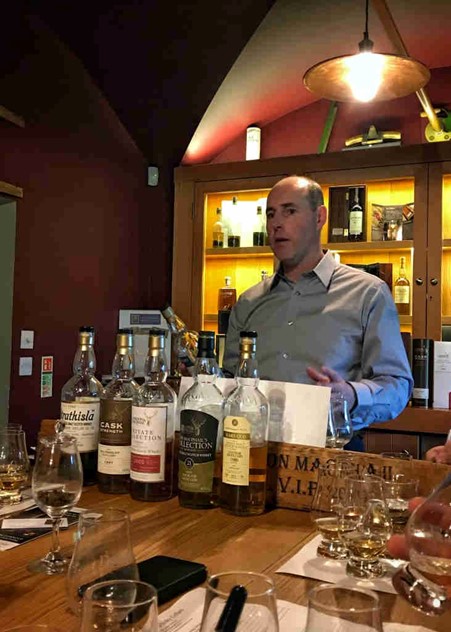 Saturday was a little busier. The Grand Tasting, also held at the castle, was the first event for me that day. Although called a tasting, it is more like a traditional whisky festival, where you can stroll around the tables to find that new whisky or try something you are curious about. It was a good mixture of the usual suspects, local companies and also a few new distilleries.
While the Grand Tasting was still going on, I was already on my way to the next event: the VIP masterclass held in the beautiful tasting room of the Carnegie Whisky Cellars. Stephen Rankin, UK sales director of Gordon & MacPhail, was the master of ceremony and led us through a wonderful G&M tasting. With some interesting drams, such as a Glenesk 1980 from the Rare Old series, an uber fruity 21-year-old Balblair, and a Strathisla from 1960. But my absolute favourite was the new Miltonduff 1997 Cask Strength.
After the tasting, I hurried back to the castle for a meet up with the man formerly known as Whisky Rover. Although he wasn't able to actually attend the festival, he had a few hours left to meet us at the bar. While tasting a couple of drams, I tried to give him a short photography course, but the man was only interested in sipping a rather disappointing St. Magdalene. Good to catch up and it was great seeing him again, albeit briefly.
Old & Rare Tasting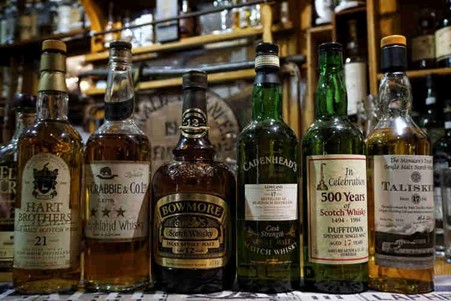 On Sunday morning I woke up quite early, so I decided to go for walk to the beach. The Dornoch beach is beautiful and there was no sign of the well-known Scottish weather. A bright sunny morning and it was good to be outside after two days spending in the hotel.
In the early afternoon, it was time for the Old & Rare tasting hosted by the Thomson brothers. Together with guest host Angus MacRaild, they guided us through a range of unusual bottlers and brands. And if you know Phil and Simon a little, you know the geek factor will be introduced rather quickly. It took about 2 minutes before they decided it would be great to measure the ABV strength of the first bottle, as there was no ABV stated on the Crabbie & Co. Ltd Highland Whisky. It was just under proof after about 60 years in the bottle. Not bad if you take into consideration that this most likely was filled at 40% ABV. An afternoon talking about the funky Glen Mhor, a soapy Bowmore (old bottle effect?), a surprisingly good Bladnoch, and the Scottish humour made it a fun afternoon. You learn a bit, taste some interesting whiskies and have a laugh, what else do you need? A very enjoyable and relaxed tasting even though the whiskies weren't stellar.
Dinner time was spent with our friends again, and while everybody was still enjoying their dinner I had to run (while eating my dinner) to the neighbours for another masterclass. Which was again held at the Carnegie Whisky Cellars. The store is open for about 1 year, but they have managed to build up a rather interesting stock of independents bottlings. And this was also the theme of the masterclass.
Independent Bottlers' Masterclass
The tasting was lead by Michael Hanratty, General Manager at the Carnegie Whisky Cellars. An independent bottler masterclass that consisted of 6 different single malts and blends. Last year this was already a great success, and this year was no different. Some amazing whiskies passed the table, such as a 24 year old Glen Ord from Douglas Laing, my favourite a 20 year old Clynelish from Hunter Laing – lovely waxy presence in this one – and one from closed distillery Glen Mhor. As a closure, there were two different Sennachie blends, that both have an impressive age of 40 years. A brand that is exclusively available at the Carnegie Whisky Cellars, and I can tell you that both are pretty good.
It was the last tasting of the festival and a great end of the weekend. The only thing I missed this time was a trip to a nearby distillery. That Clynelish, Dalmore, Balblair or Glenmorangie have not participated is a missed opportunity in my eyes. It would definitely improve the quality of the festival, and it would give the distilleries the chance to join forces in attracting an audience at the end of the season. Nevertheless, I had a great time. Dornoch Whisky Festival was all about discovering old and new whiskies at splendid masterclasses, spending time with friends and having a good time afterwards in the bar at the Dornoch Castle. I will be back next year and I'm sure a lot of the people I've met will be there again too.