Friday's are lovely days. The end of the work week for some, the start of the weekend, and of course, our favourite Friday: Friday 27th of October 2017. This particular Friday marks the start of third annual Dornoch Whisky Festival – and what an evening we have planned for you!
We're kicking it off this year with a Blind Whisky & Gin Tasting to test your skills (or develop them even more) with nine gins and nine whiskies! To add a twist all you have to do is match the pour to the tasting notes supplied. There will be also be some canapes and nibbles and this is all held at the beautiful Royal Dornoch Golf Club. With views overlooking the world famous Royal Dornoch Golf Course and just last year they celebrated it's 400th anniversary this is an event not to be missed. We'd love to give you a bit more information about the gins & whiskies involved, but we don't want to make it too easy for you!
Next up is our exclusive VIP Dinner hosted at the luxurious Links House at Royal Dornoch with Gordon & MacPhail's very own Stephen Rankin. There are an array of delights in store at this four-course dinner. A Balblair 1980 Vintage and a Connoisseurs Choice Dalmore 2001 are just two of the wonderful drams you'll encounter.
Then it's one for the gin lovers at the Eagle Hotel where there will be a large variety of Scottish gins from all over the country, have a look below to see just how many gins are made in Scotland! Oh, and that's not to mention some worldwide favourites that you'll also have a chance to taste. You will be guided through this Gin Tasting in the Eagle's Balblair bar by Eric de Venny who was voted "Publican of the Year" by Punch Tavern – so you'll be in good hands for this tasting.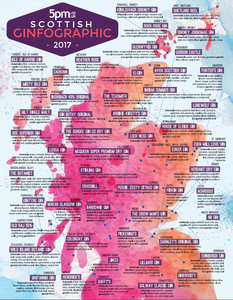 Staying at the Eagle Hotel for the remainder of the evening gives you the chance to experience Live Music from 9:30pm. The Eagle Hotel has a brilliant atmosphere with real ales and more than fifty malt whiskies available for you to try – including a few of which are locally distilled. It's the perfect chance to sample a new malt whilst you listen to the music and soak up the Highland atmosphere.
Of course, it can't be a great evening without some fantastic dining options. As well as the VIP Dinner at Links House, The Dornoch Castle Hotel has also created an amazing four course Whisky Themed Dinner which shouldn't be missed, check out the menu here: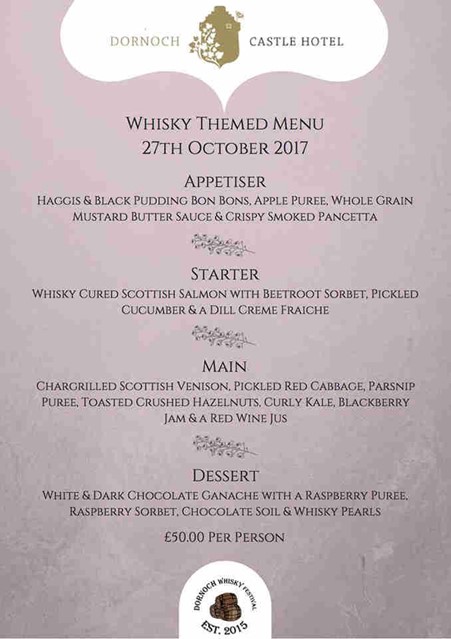 Not to mention that we have offerings all around the town, so be sure to check out Dornoch's range of eateries here.
Next week we'll be looking at the Saturday; including the Grand Tasting! We'll also be letting you into a few more details of the festival in general so don't forget to check back for the next post.