Now in its second year, the Dornoch Whisky Festival has expanded and grown in confidence. A series of new experiences and tastings form an enticing calendar of events including the presence of Charles MacLean. My Dornoch Festival preview article from last month provided a snapshot of my highlights including this Independent Bottling Masterclass. In-between the inaugural festival and this improved sequel if you will, a new whisky shop had arrived in Dornoch. It seems a noticeable omission as previously you had to rely on a supermarket for a bottle with their limited range, head south towards Inverness for more choice or quite possibly a nearby distillery shop! The Carnegie Whisky Cellars forms part of the Carnegie Courthouse complex and is steeped in history. It offers a wide range of whiskies including official bottlings and a handpicked assortment of independent bottlers. For those unaware the independent market can potentially offer more variety, value and whiskies that have not been tampered with. It seemed a logical choice for the knowledgeable team at the Carnegie Whisky Cellars to celebrate not only the local distilleries that form part of Dornoch Festival, but also the independent bottlers who strive to offer something different. Held in the historical private tasting area which used to house the court records. This 200 year old room with its stone floor and thick walls is the perfect location to contemplate and appreciate a dram. The ticket price of £50 was one of the more affordable options on the calendar given I purchased my own tickets throughout the festival. This masterclass kicked off festival proceedings on a chilly Saturday morning at 11am. Given that I was faced with this tasting and the Gala event all on the same day. Least I forget a tour of the Dornoch Castle Whisky Bar with my friends from WhiskyLifeStyle and potentially a couple of drams with the father-in-law back home at the end of it all. I had to take some precautions for this marathon. This meant limiting myself to 1 or 2 drams during each tasting and bottling samples of the remaining trio for evaluation later on. This way I could still appreciate some of the event, compile notes and take things at a modest pace.
The tasting was lead by Michael Hanratty, General Manager at the Carnegie Whisky Cellars. Having visited the shop a couple of times now I can confirm just how passionate and knowledgeable Michael is about whisky after a series of discussions. This came through during the tasting and those fortunate to possess a ticket were in for a treat, as you'll now realise. Balblair 21 year old Bottled by Gordon & MacPhail bottled at 43% vol Colour: varnished pine Nose: a real emphasis on honey, buttercups and caramel. A drop of water delivers apple peel, sultanas and golden syrup. A little while longer and marmalade is a memorable aroma with a touch of cheese. Taste: very pleasant but due to the strength this Balblair doesn't hang around. More apples, rhubarb and ground coffee make this a crowd pleaser. Overall: certainly a higher strength is beneficial here. The core Balblair characteristics are evident but without the gloss of the official bottlings. Shame but a decent enough opener. Given the option I'd purchase an official bottling for the asking price from the existing range rather than this version. Invergordon 25 year old Bottled by Douglas Laing's Old Particular distilled July 1990, bottled August 2015, DL10868, 51.5% vol, refill hogshead, 258 bottles Colour: 8 carat gold Nose: forceful at first, this grain has a lot to offer with pineapples, vanilla custard and key lime pie. Yes, its a real sweetie with a dollop of butter thrown in. Oranges and on the back row some spicing with chilli flakes and all-spice. Water brings out beeswax, a herbal note and syrup. Taste: now it jumps into life with sweetcorn, bananas and a creamy vanilla ice cream. A touch of char acting as seasoning with green peppercorns and a pleasant varnish finish. Adding water delivers citrus freshness, mashed potaotes (yes I know) and a metallic tinned quality. Overall: a solid grain whisky, arguably a little longer would have been beneficial in the cask but nothing to grumble about here. Clynelish 2000 Bottled by Gordon & MacPhail for their Connoisseurs Choice range bottled in 2015 at 46% vol from ex-sherry refill hogsheads Colour: honey roasted pecans Nose: a velvety concoction of stewed oranges, dark chocolate and caramel. More sweetness with honey, syrup and wood shavings. Spices with cinnamon and all-spice with a dash of grapefruit. I'm wanting to say a dark chocolate with cardamom, so I've said it. Taste: more oranges and cocoa, its cask dominated and a pleasant drinker. A hint of the Clynelish wax comes through on the end but this is more a mutant creation. Albeit a solid whisky. Hazelnuts and ginger with cinnamon and balsa wood with a sherry influence throughout. Overall: interesting concoction of casks in this mix I presume as some of the Clynelish character has been lost on the nose but the palate retains a touch of waxiness. A decent price but I'd rather go for the official Clynelish 14 year old bottling.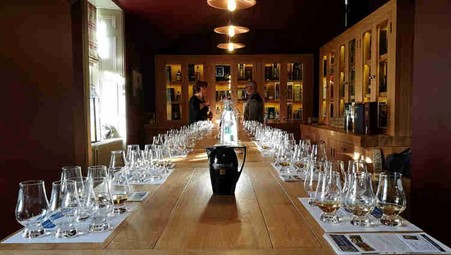 Clynelish 1989 Bottled by Carn Mor distilled 22nd September 1989, bottled 16th May 2016, 277 bottles a hogshead, cask number 5886, at 54.5% vol Colour: butterscotch Nose: very spritely arrival with an overload of honey and vanilla. Freshly scrapped resin, ginger loaf, melted caramel and on the fringes a cinnamon stick. Taste: yeah the waxy quality comes through towards the end. Prior to this its a charred cask laced with vanilla and roasted banana. Overall: not enough definition for me which is a similar experience I received with theClynelish cask in the Brora VIP tour. Perhaps this is why you don't see too many vastly aged Clynelish bottlings? Old Pulteney Bottled by Gordon & MacPhail for Mackay's Hotel Wick distilled 12th December 1984, bottled October 2015, refill bourbon cask number 10170 134 bottles at 46% vol. Colour: caramel blonde Nose: chocolate orange and plenty of caramel. Scotch pancakes, resin, almonds, creamy vanilla; all classic notes. A touch of eucalyptus with water, coconut flakes, apricots and lemons. Taste: sweetness at first with caramel that transitions into peaches and then vanilla appears before the salty aspect kicks in and takes us into a long finish. In-between all that is red liquorice, bitter dark chocolate, a hint of lemon and a black breakfast tea. Adding water reveals oranges and a vanilla vibrancy moving into the finish as well. Overall: initially I was afraid that taking this down to 46% strength would be an issue never mind the 40% minimum. In fact it's a great example of an Old Pulteney, the oldest I've certainly experienced and one that will take some beating. Is it worth the asking price? Yes, I'd pay it without hesitating and when I'm back up in Dornoch if a bottle is still on sale, then I deserve a Christmas treat surely? Caol Ila 2005 Bottled by Gordon MacPhail for the Carnegie Whisky Cellars bottled October 2016, refill sherry hogshead number 301490 at 51.3% vol 118 bottles at £65 each Colour: crystallised ginger Nose: immediately its a sugar rush with that old school classic Cola Cubes. Then muscovado sugar with the earthiness of coffee beans. A fleeting hint of kippers? Washed away with a fine black breakfast tea blend. Speaking of breakfast we have bacon fat, a splash of bovril and kindling that takes us into the vegetative peat. With water blackberries and raspberries branch out from the foliage with liquorice and dark chocolate. Taste: all-spice and cloves reach from the moss. An expired matchstick and blackcurrant jam. With water its a honey richness with cracked black pepper and more liquorice flavours. Beef stock and a pungent treacle take us to the finish of a malted loaf. Overall: this is their first exclusive bottling and isn't all raw power and sherry influence as the cask was slightly damaged leading to a lower outturn and this interesting whisky. You can read my full review right here and the asking price for what's on offer is entirely reasonable. So there you have it, a fantastic tour across the region with some rarely seen whiskies. An intoxicating mix of cask types on display and differing approaches from these independent bottlers. Ultimately it demonstrates why the independent sector is so exciting for whisky enthusiasts and offers more bang for your buck. My thanks to the team at the Carnegie Whisky Cellars.