It's the start of yet another busy week at the Dornoch Whisky Festival HQ!
For those of you who missed the announcement, there's still a few tickets left for our newly added Whisky Cocktail Tasting so check it out here to avoid any disappointment! The team are really looking forward to putting together the cocktails for you to try! We don't want them to be just the typical ones those cocktail and whisky lovers are used to, so we're jazzing it up a bit! Can't wait to show you some behind the scenes photos of testing them out beforehand!
We also had a few of our events sell out, so always, if one of the events you wish to book is sold out then contact the presenter on the ticketing website to be added to the wait list.
For those of you who have got your tickets to certain events already, we'll be releasing videos over the next little while to give you a more in depth look at what to expect in the coming events.
We can also announce that we are putting together transportation options to get you from Inverness up to Dornoch for the Grand Tasting on Saturday! If you haven't booked your ticket for the event then you can book the two together and if you have, then you can book the transportation option separately.
So, keep an eye out on the website for more details on how to book that! If the timings for our transportation don't work for you, then fear not, as we'll be adding lots of information on how best to get you to the Dornoch Whisky Festival to simplify the process for you.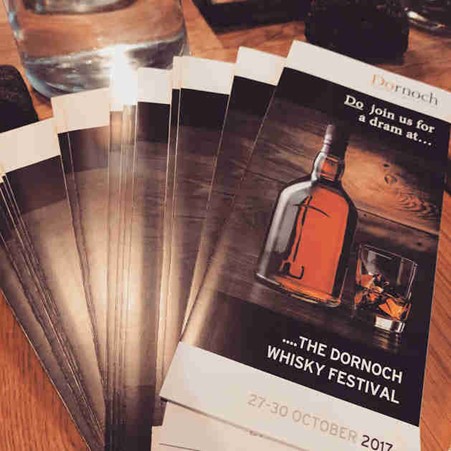 Last but not least, we got our programmes! Keep an eye out for these little beauties on your travels as they start to get distributed.
Until next time, whisky lovers