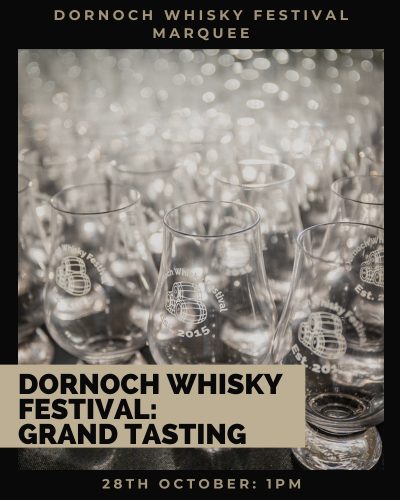 Grand Tasting
We're excited to announce that the 2023 Dornoch Whisky Festival's Grand Tasting is back! Mark your calendars for Saturday 28th October and get ready to indulge in a handpicked selection of approximately 20 exhibitors. The 2023 lineup features a mix of established distilleries and exciting new brands, so you can expect to taste both familiar favourites and innovative new expressions. This year's event hopes to be our best yet!

Whether you're a seasoned connoisseur, a curious newcomer, or anyone in-between, the Grand Tasting offers something for everyone. You'll have the opportunity to meet and learn from the experts, chat with fellow whisky lovers, and discover new and exciting drams. From classic malts to limited editions, there's sure to be a dram that speaks to your palate.
So join us for a dram as we celebrate and explore the art of whisky and discover your new favourite dram. So mark those calendars as we can't wait to raise a glass with you at the 2023 Dornoch Whisky Festival's Grand Tasting!
For those of you who have not attended before, the Dornoch Whisky Festival Grand Tasting works on a voucher system.
You would exchange your ticket at the door and receive 20 vouchers. These vouchers can then be exchanged for 10ml pours with the exhibitors in attendance. The drams worth varies between 1 and 5 vouchers with most being between 1 – 3 and a few special drams at the higher end. Over the years we have found this system works well and is more than enough vouchers to thoroughly enjoy the event. More vouchers, if required, can be purchased on the day at the discretion of the Dornoch Whisky Festival staff.
We take responsible drinking very seriously and expect you will too. If you have any questions regarding the voucher system or the festival in general, please do not hesitate to ask.