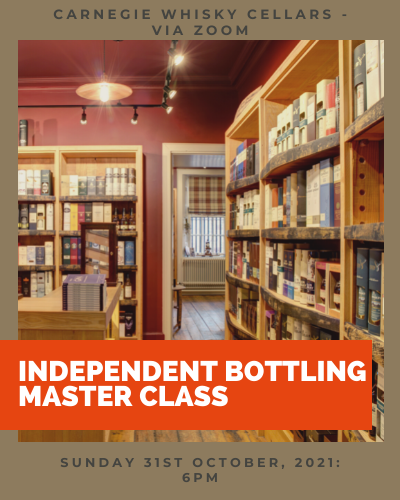 Independent Bottling Master Class – Zoom
*Now Sold Out*
Join us for the online Zoom edition of the Independent Bottling Master Class, hosted by Michael Hanratty, General Manager at the Carnegie Whisky Cellars. Each of the Carnegie Whisky Cellars independent bottlers are invited to put a bottle forward that showcases their companies core values and cask selection. A description for each whisky and company is given by Michael as he looks to highlight each company unique features. All whiskies are scored during the tasting with feedback being provided back to each of the companies involved, this has been popular with our Independent bottlers as they look to showcase a specific item against their competition.
Due to the size of the room – and the fact we are living in Covid-19 times – this tasting will be offered twice – once on Zoom and once in person.
This is the Zoom version: There is a £10 shipping charge for sending tasting packs. We have created a simple product based on this which you can find by following this link.
These tickets/tasting packs will only be available to purchase until the 25th of October so we can make sure that they get to you in good time.
We can ship outside of the UK, please just get in touch with us here and we will get a quote to you.