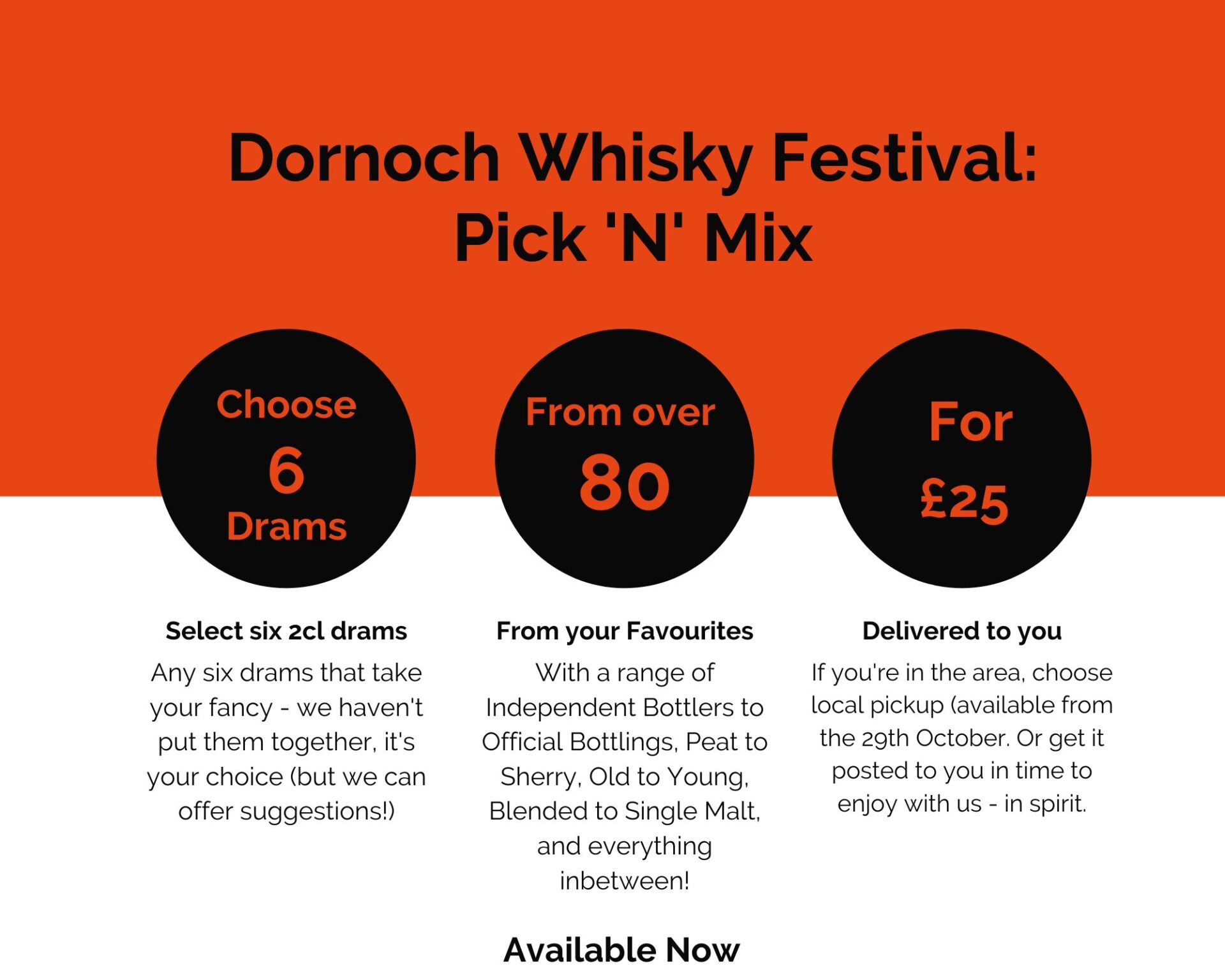 Dornoch Whisky Festival: Pick 'N' Mix
This year it wasn't possible to hold our annual Grand Tasting at the Dornoch Whisky Festival. You can read more about our reasons here, but we wanted to do something to celebrate the fantastic exhibitors, brands and attendees who have supported us over the years.
The Pick' N' Mix is not an online tasting but a way to emulate the Dornoch Whisky Festival Grand Tasting as closely as possible. We have reached out to past exhibitors of our wee festival to see if they could put forward a bottle or two. We also reached into the back of other peoples cupboards to help them share their whisky – 'cause we're nice like that! This combined effort and a combination of bottles the Dornoch Whisky Festival was saving for a special occasion has brought about this year's Pick 'N' Mix. We are astounded that we have over 80 drams to offer to share with you with the hopes that you'll find a new favourite, a new regular dram or a special dram you may have missed.
You will select six drams out of the 80+ and add them to your basket. We will then decant them into 2CL (20ML) bottles, wrap them up and send them to you.
We ask that you keep a hold of these bottles so they don't go to waste – they're handy to have when you're visiting other whisky establishments (or you could turn them into a nice little decoration if you fancy).
In the time when the Grand Tasting usually is taking place (1pm – 5pm on the last Saturday of the month), we too will be having a couple of drams from this selection to be drinking in spirit with those of you who couldn't make it to Dornoch this year. For those of you who are making it to Dornoch – this Pick 'N' Mix is just as much for you as it is for anyone else. You can select local pick up at the checkout and come and say hi!
Most of all, what we wanted this event to be was a chance to celebrate what we all love. We all love whisky, we all love our wee festival, and we are all hoping for a better year in 2022 when we can knock your socks off!